Services
Please browse through all our services by visiting sub sections of the Services Menu
General Anesthesia
Also called sleep dentistry, general anesthesia can relieve pain and anxiety by making a patient unconscious during dental procedures.  For patients with intense dental fear or those who need major dental procedures, sleep dentistry presents an option that is both comfortable and practical.

If you and the dentist determine that your case is right for sleep dentistry, the dentist may use oral medication or IV sedation.  Sleep dentistry has helped many patients overcome the barriers created by profound anxieties about dental procedures that stand in the way of optimal oral health.

Oral Conscious Sedation
To relieve the very real and often debilitating anxiety associated with dental phobia, we also  offer oral conscious sedation, known as sedation dentistry. Patients who feel stressed about dental work, as well as those who need multiple procedures performed in one visit, benefit from conscious sedation.

The procedure involves taking an oral sedative prior to your visit, then receiving nitrous oxide (laughing gas) to supplement the sedative's effects. Your vital signs and comfort level are keenly monitored throughout your visit.

Nitrous Oxide and how does it work?
Commonly referred to as laughing gas, nitrous oxide is used in surgery and dentistry for its pain blocking and reducing effects. It is known as "laughing gas" due to the euphoric effects of inhaling it.  The administration of nitrous oxide is used to enhance patient comfort and relieve anxiety for patients of all ages.  The gas (a nitrous oxide and oxygen mixture) is inhaled through a face mask.  The amount of gas that you receive is monitored and controlled by the dentist to ensure your safety. You will begin to relax and will not recognize pain, so the dentist can perform your dental work while you stay completely comfortable. The effects of nitrous oxide decrease once the mask is removed, such that if the gas is the only anesthesia that you receive, you will very likely be capable of driving yourself home following the visit and can continue your daily activities as normal.

IV Conscious Sedation
While IV sedation can be used for general anesthesia (to induce a state of unconsciousness), it can also be used for conscious sedation.  This type of sedation induces an altered state of consciousness, also known as a "twilight" state, which is a groggy state of mind and a relaxed body.  This form of sedation minimizes pain and discomfort through the use of pain relievers and sedatives. Patients who receive conscious sedation usually are able to speak and respond to verbal cues throughout the procedure, communicating any discomfort they experience to the dentist.   While you are under the effects of the drug, the dentist can perform your dental work, and you will remain comfortable. A brief period of amnesia may erase any memory of the procedure.  After your procedure(s), you will need a ride home from the dental office. The following day, the sedative will clear the body so that you can resume daily activities.
In only the most extreme and necessary cases—such as when its roots are damaged beyond repair—we may extract a tooth in preparation for a restorative dentistry procedure, such as dentures or implants.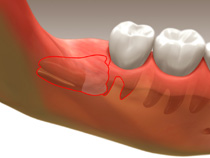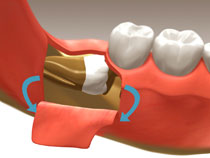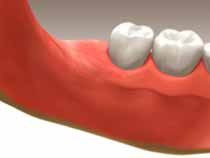 Twice-daily brushings and regular flossing are excellent for maintenance between office visits, but a healthy mouth and beautiful smile require routine general and preventative care to stay that way. Our practice offers general care that includes regular oral examinations and cleanings. Our preventative hygiene services include fluoride, professional breath control, and periodontal (gum disease) treatments designed to help you maintain your smile's health and beauty. Keep your teeth and gums strong and disease-free. Contact our office today to schedule a cleaning or consultation.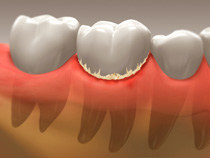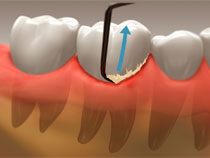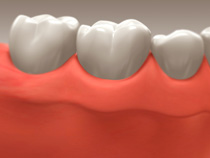 It is possible that in spite of your best efforts you may require more aggressive gum therapy. Like many other ailments gum disease can be quite painless due to its slow progression.
After a thorough periodontal screening and examination we may choose more aggressive therapies aimed at eliminating or reducing the amounts of bacterial poisons and plaque accumulating below the gum line, (generally cleaning and polishing of teeth is above the gum-line). This involves curettage and root-planing and/or treatment with site specific administration of medications to the affected gums. Curettage is the debridement of the soft tissue lining around the tooth. In disease this tissue is chronically irritated by bacteria deep below the visible gum-line and needs to be removed so that proper healing can occur. Root-Planing is the removal and smoothing of micro-amounts of root surface so that a clean and un-infected surface is presented to the healing lining of soft tissue.
These two procedures are generally done simultaneously, may require local anesthesia and are skillfully done by our well trained hygienists under JOhn Aniemeke's prescription.
Gum disease does not happen over night and treatment generally is spread out over time as the effectiveness of a procedure needs to be assessed before the next takes place. Generally your condition is re-assessed in time and joint decisions are made about your next step. The services of a specialist (Periodontist) may be required should surgical intervention be required. Often surgery allows for complete healing of the gum and bone, reduced mobility of teeth and a greatly improved prognosis.
JOhn Aniemeke's hygiene team will work with you to assure that you have access to the care that best suits your needs. They will also help you hone your home-care skills so that you can maintain the optimum level of health that you want.
JOhn Aniemeke performs dental implant restoration by attaching artificial teeth to implants anchored in the bone below the gum line. After the anchor has been surgically placed in the jawbone, excess bone and gum grow around the implant, holding it firmly in place.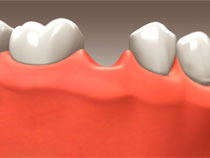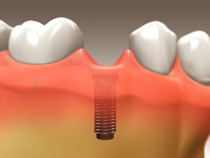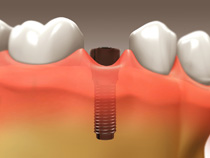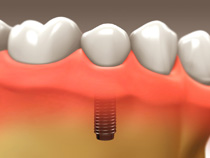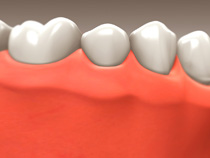 An artificial tooth can then be attached to the implant. The end result is a strong, secure tooth that is virtually indistinguishable from natural teeth.